During the initial lockdown, teleworking proved essential. However, the context threw many workers into unplanned and disorganized teleworking situations, where performing professional tasks in the presence of a spouse, young children, teenagers, or roommates became inevitable.
Workers had to adapt in order to perform their tasks without access to the usual technology. However, the one essential tool for teleworking, a home Internet connection, remained accessible to all, or nearly all. Yet, as indispensable as it is for teleworking, it can also become a trap.
When the lines become blurred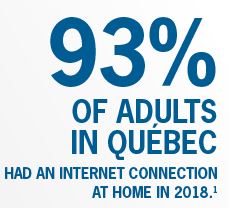 Since the start of the lockdown, balancing work, or rather telework, family and personal life has gradually become an individual responsibility. Each person is free to organize their work within the demands of family and personal responsibilities, with employers often relinquishing any responsibility for the of teleworking.
In no time, the constant connection to work has taken hold and the lines between all aspects of life have started to blur.
In 2017, a CSQ survey carried out among education and higher education personnel had already revealed that tasks carried out on personal time, outside normal working hours, such as reading and answering emails, had increased for 76.5% of respondents in recent years.
If, in 2017, the constant connection to work resulting from the development of digital tools had already taken hold, it goes without saying that the teleworking imposed by the lockdown has only reinforced this trend, without regard to the consequences on personal and family life.
Does lockdown lifting go hand in hand with  disconnection?
Nothing is less certain. Yet, on June 3, 2020, Québec Solidaire announced the tabling of a bill on the right to disconnect. The purpose of this bill is to "ensure that employee rest periods are respected by requiring employers to adopt an after-hours disconnection policy." According to the terms of the bill, this disconnection policy should be drawn up in collaboration with the designated employees, or where applicable, by the persons representing the accredited associations.
Despite its relevance, it is by no means certain that the bill will pass, especially without the support of the governing party. Moreover, the Minister of Labour, Jean Boulet, has been reluctant to impose it on employers.
Union action
It is important to acknowledge the benefits of teleworking. "During a period of lockdown, it allowed many workers to maintain an employment relationship while ensuring a work income," explained CSQ president Sonia Ethier. For many, teleworking has also helped them have better control over the organization of their work, while avoiding the pressures of productivity and performance associated with the intensification of work.
Despite these benefits, teleworking will have left its mark on the practices of creating a constant connection with work that will continue to intensify. "The risk that the lines between personal and professional lives increasingly blur is indeed real," added Sonia Ethier. However, it is important to remember that the need for rest is a legitimate one for everyone and to ensure a break from work. It is essential for maintaining good mental health and a balance between the different parts of life.
"Though union reflection on the subject has yet to be developed, it must be initiated in order to take action in our communities. This should be done with respect for different points of view in order to find a collective solution that will guarantee the wellbeing of all and safeguard the balance between work, or telework, and family and personal lives," concluded Sonia Ethier.
---
To know more
Digital technology: meeting the challenge, providing the support
Consult the results of the 2018 CSQ survey conducted among 130,000 members in education to understand the impact of digital technology on the conditions of work and professional practice.
►Dossiers ►Éducation ►Numérique
Bill 492, Right-to-Disconnect Act
To learn more about the bill tabled in the National Assembly by Québec Solidaire on June 3, 2020.
►Parliamentary Proceedings ► Bills ► Choose a session: Current session – 42nd Legislature, 1st Session (November 2018 - ) ► Scroll down the list of bills to Bill 492.
---
1 CEFRIO