A youthful tide swept over Québec during the 2021 municipal elections. The Ose le municipal campaign launched by the Union des municipalités du Québec to encourage young people to get involved in municipal politics may well have had something to do with the groundswell of change: throughout the province, 1 089 young people from 18 to 34 years old ran as candidates for the office of municipal counsellor and 62 for the office of mayor.  More than half were elected to office (665 municipal counsellors and 33 mayors).
CSQ Le Magazine met with 3 young people who have held the office of mayor since November 7, 2021 to discuss political involvement and commitment.
SÉBASTIEN MARCIL, MAYOR OF SAINT-ROCH-DE-L'ACHIGAN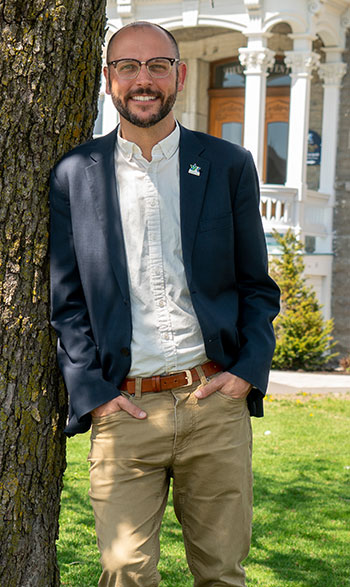 In 2017, Sébastien Marcil left Québec City and his job as communications advisor with the office of the leader of the official opposition at the National Assembly to seek a quieter life for his young family. After visiting several cities and towns north of Montréal, on stopping over at Saint-Roch-de-l'Achigan, it was love at first sight.
Taking action
Two years after his arrival, he became the spokesperson of a group of citizens opposing the construction of an airfield in their village of 5500 residents. "It thrust me to the forefront of citizen activism," he recalls. Thanks to his leadership and his experience in the field of communications, the new Achiganois contributed to stopping the project. Without realizing it, he had just taken his first steps in municipal politics.
In 2021, many citizens of the small municipality in Lanaudière approached him to run for the office of mayor. That was all it took for the young man working as a press officer at the CSQ to be convinced to declare his candidacy. "In the era of climate change, there are many questions about what shape land use planning should take. We represent the younger generations, and if something challenges us, we have to take action," asserts the mayor who says he remains true to the values he inherited from the CSQ, such as the environment, equality between women and men, social development, education and educational success, among others.
On November 7, 2021, Sébastien Marcil was elected with over 82% of the vote, becoming, at age 34, the youngest mayor in the history of the village. "We had to introduce IT into the mayor's office by buying a computer," he says, a smile in his voice. The young man holds an undergraduate degree in applied political studies as well as a graduate diploma (DESS) in public management.
" Municipal government is an incredible platform for taking action. We are able to change things very quickly, unlike the provincial government, at times." – Sébastien Marcil
Making a difference
Being a young elected official and "not a native-born resident" brings its share of challenges, he acknowledges. "Sometimes I have the feeling that I have to work twice as hard to demonstrate my abilities, but at the same time, I have solid support from the village population."
He believes that his experience in provincial politics has given him a leg up in his new duties as mayor. "Municipal government is an incredible platform for taking action," he says. "We are able to change things very quickly, unlike the provincial government, at times."
The motivation for getting involved in municipal politics stems from a profound desire to commit to action. "I have always needed to work in jobs that resonate with my values and that give me the sense of changing the world a little," he says. "If we add up each gesture, we sometimes have the impression of having made a difference."
CATHERINE FOURNIER, MAYOR OF LONGUEUIL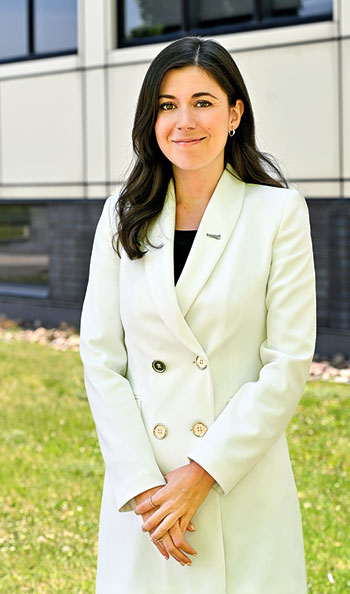 It was during her CEGEP studies, at age 19, that Catherine Fournier started to take an interest in politics and to campaign for the Parti Québécois and the Bloc québécois. "I saw politics as a way not only to get involved in my community but also to participate in championing great ideas for society, as a means of changing things in a very tangible way," says the young woman who holds a bachelor's degree in economics with a minor in political science.
Think globally, act locally
In 2016, the 24-year-old was elected MNA in the district of Marie-Victorin, becoming the youngest woman MNA in the history of Québec's National Assembly.
Five years later, she declared her candidacy for the office of the mayor of Longueuil. "I said to myself: if we succeed in making progress in Longueuil with the major national issues that have always interested me, from confidence in our democratic actions, the fight against climate change, to housing issues, I think it will have an impact across Québec. I am trying to apply the famous dictum "think globally, but act locally," asserts the author of L'audace d'agir, a book published in 2017 that calls on her generation, the millennials, to commit to action.
" I saw politics as a way not only to get involved in my community but also to take part in championing great ideas for society." – Catherine Fournier
A matter of time
Catherine Fournier has learned "on the job" that the organization of an election campaign in a large city like Longueuil requires a great deal of time and money. "I started from nothing," she says, stressing the scope of the task. A challenge that the politician met hands down by getting herself elected at age 29, clinching the title of "youngest woman mayor in the history of Longueuil."  Although her age was not an obstacle during the campaign, she believes that it is probably because she had already been involved in politics for six years. "People have known me for a number of years. They see that I am able to deliver the goods, that I move the issues forward," she explains.
In her view, time is her main obstacle. Heading the fifth largest municipality in Québec comes with an infinite list of tasks and atypical hours that could well intrude on all her personal time. The mayor acknowledges that work-life balance is a daily challenge. "I try to set limits, even if it's sort of in my nature to agree to everything that comes along. That's what's difficult when you are doing a job that is also your passion," she concludes.
MICHAËL PILOTE, MAYOR OF BAIE-SAINT-PAUL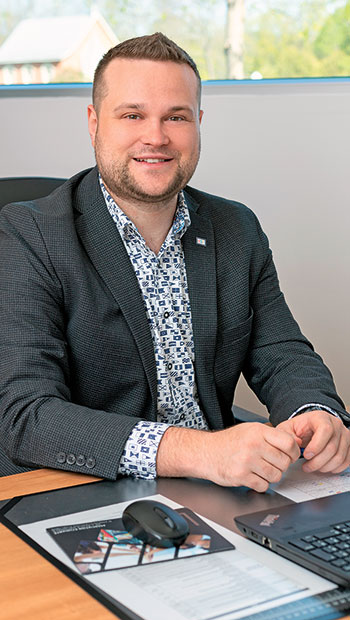 Since adolescence, Michaël Pilote has continually committed to project after project. His volunteer commitment was recognized in 2013 when he was awarded the Lieutenant-Governor's Youth Medal. Declaring his candidacy for municipal counsellor in his home town in 2017 went without saying, although he was only 24 years old at the time. "I have always stepped up to the plate. For me, going into politics was a natural move along a continuum."
From one generation to the next
When the former mayor of Baie-Saint-Paul, Jean Fortin, announced his retirement in 2021 after 9 terms, the young municipal counsellor and nurse clinician by profession started thinking about the possibility of replacing him. In the end, the race for the office of mayor was between Michaël Pilote and the municipal counsellor Luc A. Goudreau, a retiree. In the early weeks of the election campaign, everyone was talking about the issue of age in the municipality of just over 7000 residents. "People were saying that I was too young and that I should prove myself before occupying that office," he remembers.
But the holder of a bachelor's degree in nursing and a master's degree in public administration quickly won the confidence of the public. "As the campaign carried on, I heard less talk about my age. It was a burden at the beginning, but it became a huge positive at the end," he continues. Result: the 28-year-old Baie-Saint-Paulois won the election with over 86% of the vote.
"Young people are full of surprises. We aren't perfect. We'll hit home runs and foul balls, but all in all, we are capable of quite the batting average! – Michaël Pilote
Trust young people
Today, people no longer mention Michaël Pilote's  age. "People have come to trust me," he says. After several months in office, the mayor feels that he has ownership of the issues, and he has put responsible development of the city at the top of the list. "Currently, there are so many projects in Baie-Saint-Paul," he explains. People come knocking at our door and they are asking for quick answers. But I want to take the time to reflect, to do things the right way."
What Michaël Pilote has learned from his experience in municipal politics to date, is that people must trust the upcoming generations. "Young people are full of surprises," he asserts, pursuing a baseball metaphor.  "We aren't perfect. We'll hit both home runs and foul balls, but all in all, we are capable of quite the batting average!"