The only cook at CPE Les Amis Gators, Joël Bourgeois1 prepares every meal and snack himself, from A to Z, for approximately 98 children in two centres in Saint-Hyacinthe and La Présentation.
"Although I do buy crackers, I make everything else myself. Even the bread!" he explains. This allows him to guarantee the quality of the food and save money.
"When you start making your own food, you realize that it's much cheaper than buying ready-made products. Take the bread for example, it can accompany any dish or be eaten as a snack that the kids love. Plus, this way, we know exactly what goes into plates: no additives or preservatives," he says.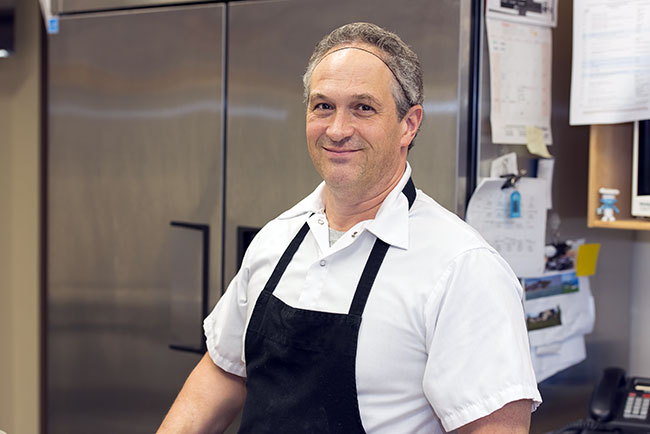 A varied menu
Rotated every three or four weeks, weekly menus need to be varied. For Joël Bourgeois, this means one fish dish, one egg dish, and one vegetarian dish every week.
A dish that's surprisingly popular is Asian macaroni with tofu. It's on the winter menu rotation. "The kids look forward to winter for that meal!" he says.
Contrary to what we may think, kids don't need to be pushed to try foods outside their culinary comfort zones. "Sometimes, they're even less hesitant than their educators when it comes to trying to new things!"
A source of pride
The children who attend Les Amis Gators really enjoy the person in charge of their meals. "Some parents tell us their kids don't even eat at home, and they tell their parents to 'make it like Joël!'" he says.
But to those parents who struggle to get their kids to try new foods, Joël Bourgeois puts things in perspective: "I'm more successful at work than at home with my two teenagers!"
---
1  Joël Bourgeois is a member of the Syndicat des intervenantes en petite enfance de Montréal (SIPEM-CSQ).