Every morning at 5 a.m., Josée Ratelle starts to carefully prepare nearly 1000 pastries. For 21 years, she's worked as a kitchen general helper at Collège Ahuntsic. "I value punctuality and efficiency in what I do. And this extends beyond my own work," she says.
Her work plan is located in the busiest corner of the kitchens. "Everyone comes to see me and talk to me. It's important that I be there for them. I'm very sensitive towards others," she adds.
It's no surprise that Josée Ratelle was unanimously elected as the representative for cafeteria workers. This being said, she admits that her recent involvement in the union is an important step in her personal growth.
"I couldn't have accepted this role a few years ago. I used to talk before listening. Although I had the drive back then, today I also have the wisdom to intervene more effectively."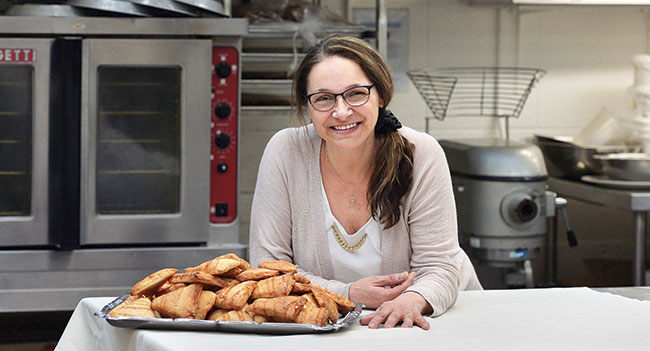 Discovering a passion
David Jutras1 has been a prevention and security officer at Collège Ahuntsic for 9 years. "He has a very calm personality," says his colleague, Janis Myre. His welcoming and unprejudiced approach is appreciated by his co-workers and sought after in cégep. "I've stood up for numerous groups, notably the general association of students, who I often collaborate with," he says.
Supported by deeply held values, this ability to build trust is not unrelated to his recent union involvement. "I'm proud to be unionized. I'm disappointed by some of the criticism I hear. Through my involvement, I'm trying to correct some of these misperceptions," he says.
Elected as advisor for the local executive committee, he hopes to deepen and develop his union engagement, notably through the university studies he's recently begun. "I love it! You'll be seeing more of me!" he says enthusiastically.
Quickly rising in the ranks
Janis Myre1 has been an administrative support agent at Collège Ahuntsic for 7 years. Her accounting and payroll duties mean that she interacts regularly with external providers and many cégep stakeholders.
"The service I provide to users is my main source of pride and motivation. When a problem arises, I jump into solution mode. I want to settle everything quickly and well," she says.
Her ability to identify problems and her determination to resolve them fast are just a few of the qualities that explain how Janis has so rapidly risen in the ranks of her union to her current position as vice-president. But it hasn't always been easy. Newly-elected, she had to temporarily take over the responsibilities of the presidency.
"Thankfully, I had some knowledge of the collective agreement because of my work in human resources. Slowly, I learned to understand my mandate and find my bearings. I especially like being able to inform members, set the record straight," she explains.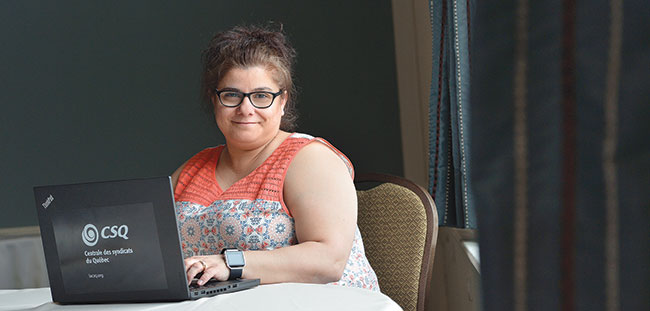 Driving forces
In addition to their growing experiences, Josée Ratelle, David Jutras and Janis Myre belong to a new generation of driving forces investing in the unions, revitalizing local approaches, and opening new ways of engaging with their centrale, the CSQ.
---
1 Josée Ratelle, David Jutras and Janis Myre are members of the Syndicat du personnel de soutien du Collège Ahuntsic (CSQ). Last April, they counted among 80 or so participants attending the CSQ's Camp de la relève syndical. Militant persons present belonged to unions in the education, higher education, early childhood, and health and community sectors.