CSQ MAGAZINE: HOW WOULD YOU DESCRIBE YOUR TERM AS CSQ PRESIDENT?
Sonia Ethier: It was extremely interesting and significant. We encountered many unexpected challenges. This past year has been particularly intense given the pandemic and public sector negotiations. We brought to the public's attention the state of our members' working conditions time and again, to bring home that the battles we fight are not just for public sector workers but for our society as a whole. Through our efforts, the population now embraces the fact that we must begin by improving the staff's working conditions to secure better public services.
WHAT WERE YOUR MAIN PRIORITIES THESE PAST THREE YEARS?
My main priority was to foster closer ties between the CSQ and its members. At the outset of my mandate, Executive Committee members and I met with our federations, the RUC-CSQ,1 the AREQ-CSQ2 and our local unions to better understand their needs and make sure we were working in sync. We also wanted to describe all the work our advisors and the entire CSQ staff do to improve their working conditions and services to the population. It was important that our members see the faces of those working within the CSQ Executive Committee and that they realize that we work with them and understand their reality.
Another priority was to speak to the public and the government on behalf of our members. We appeared before several parliamentary committees over the past three years.  We expounded our views on many bills regarding essential services, healthcare, education, early childcare, etc. To a certain extent, when speaking on behalf of our members, we were also giving a voice to women. We must always keep in mind that a majority of our members and public service workers are women.
BEFORE BECOMING PRESIDENT, YOU WERE FIRST VICE-PRESIDENT AT THE CSQ. LOOKING BACK ON YOUR TIME IN THE EXECUTIVE COMMITTEE, WHAT ARE YOU MOST PROUD OF?
It was a great source of pride to speak on behalf of our members with other elected members of the Executive Committee for so many years. I am proud of the work we did, demonstrating the importance of great labour unions— ours in particular—in our society.
Let's not mince words: central unions are struggling. Given how difficult things are in our workplaces and how challenging negotiations can be, people sometimes feel that they would go further if they formed sector-specific groups. However, in the past three years, we have demonstrated our central union's strength: what we say is taken into account. The CSQ is a key player in the advancement of our social rights.
As Occupational Health and Safety Committee political officer for six years, I am also very proud of our accomplishments toward having the importance of workplace psychological health recognized. Among other things, we implemented an extensive campaign on the psychosocial risks related to poor work organization to help workers understand that the problem is not in their head.
WHAT ARE THE MAIN CHALLENGES THE CSQ MUST TAKE ON IN THE COMING THREE YEARS?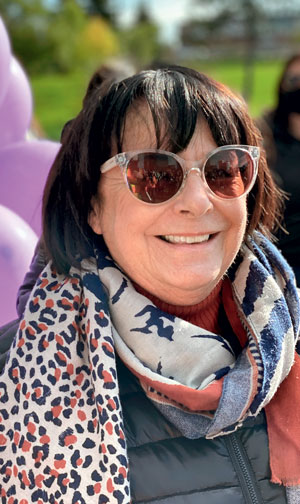 The CSQ will face a great many challenges in the coming years. It will need to take stock of our ongoing negotiations and prepare for those to come in 2025 by further strengthening all our components.
In the early childhood sector, national negotiations regarding CPEs3 (early childhood centres) will take their course. It is essential that a satisfactory agreement, meeting the expectations of our members, be reached to avoid seeing even more childcare workers leave their job, close to a dozen each week, as is currently the case. Lack of recognition and a critical shortage of resources result in severe exhaustion throughout the sector.
Planning for the post-pandemic period and considering future issues are also things we must take on. We will need to take stock of what has occurred during the crisis, and what that entails as far as activism and working conditions are concerned. The CSQ will have to examine how, going forward, it will advocate for its members' rights in an ever-changing world of work.
Among other challenges, there will be the emergence of a new form of work, where workers are not subject to nor protected by the Labour Code, in the sectors we represent. It will be important for the CSQ to find how to include and protect these individuals.
There will also be the added challenge of teleworking which has increased in the past year due to the pandemic. Even if less prevalent once the crisis is over, teleworking is here to stay. This will lead to solitude and mental health-related issues. The CSQ will need to consider this issue.
WHAT ARE YOUR HOPES FOR THE CSQ IN THE COMING YEARS? 
I hope that open dialogue is maintained within the Centrale. Members can discuss matters and hash out any number of issues at the CSQ. We must continue to work together to identify problems and pinpoint the right solutions.
AFTER MORE THAN 30 YEARS OF ACTIVISM, WILL YOU REMAIN ACTIVELY INVOLVED WITHIN OUR UNION?
I will always be, to my very core, a unionist, even though I am taking a step back. I will always follow the news and be on the lookout for social issues affecting the labour movement. I will always be proud of seeing my Centrale on the public stage, advocating for workers' rights. I will always be proud of my work advocating for the CSQ all these years.
---
1 Regroupement des unités catégorielles.
2 Association des retraitées et retraités de l'éducation et des autres services publics du Québec.
3 Centres de la petite enfance.