CSQ MAGAZINE: YOU BEGAN YOUR CAREER AS A PRIMARY SCHOOL TEACHER. WHAT WAS THE SPARK THAT PROMPTED YOU TO GET INVOLVED WITH YOUR UNION?
Éric Gingras: I started teaching in 1996 and did so for eight years. In 1997, I got involved with my union and became a representative. Later on, in 2004, I was appointed Syndicat de Champlain interim coordinator to fill in for Monique Pauzé who was replacing Réjean Parent when he became CSQ President. I was elected Vice President of the Marie-Victorin Division in 2007, and began serving as President of the Syndicat de Champlain in 2013.
I've always been one to get actively involved, in student associations for instance. Raised in Côte-des-Neiges, a multi-ethnic and disadvantaged Montréal borough, I have always been aware of inequalities with a keen interest in social justice.
Unionism is well established in the teaching sector, so staying involved appealed to me.
WHAT WILL BE THE CSQ' BIGGEST CHALLENGE IN THE COMING YEARS?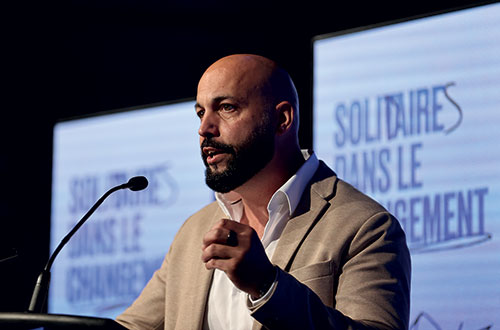 We need to better explain, and with increased transparency, what we do, share why we do it and set our actions in the day-to-day. For instance, we need to take the time to explain to our members the reason behind our going before parliamentary committees to defend our values.
Technology helps us do just that. We're opening ourselves up to criticism, but that's ok. The more we share this information with people, the more they'll understand what we do. They'll be more interested in getting involved and see that we aren't just a bunch of pencil pushers.
SO, IT'S IMPORTANT TO KEEP MEMBERS IN THE KNOW, EVEN DURING NEGOTIATIONS?
It's crucial. During our last negotiations, we kept our members informed like never before, but I think we can do even better.
New negotiations are set to begin. Letting our members know what is happening during this period will have to be part of our strategy. How will we accomplish that? I don't know. I need everyone's ideas. We'll consult both our members and the General Council.
We'll begin by taking stock of the last negotiations with our various union groups. We'll discuss CSQ communications and our way of doing things with our decision-making bodies. And we'll see what comes out of these talks. I don't want to make any assumptions of what might be said.
What I am hoping is for people to get fired up and get involved. Negotiations are just around the corner! We need to get ready.
WHAT ARE SOME OF THE CHALLENGES THE CSQ WILL HAVE TO TAKE ON IN THE COMING YEARS?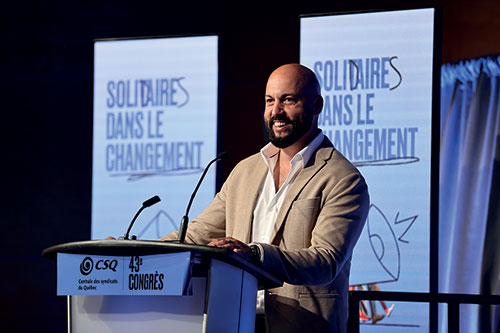 Currently, and throughout our society, people are calling institutions into question and, for our members, that includes larger labour organizations. Like all other central union organizations, the CSQ must be able to say why it is important. I for one know why, our delegates know why, but certain members aren't as sure because they can't figure out what a central organization can do for them.
In groups that are diverse, as is the case with central organizations, building a sense of belonging is somewhat harder. People are looking to come together, to get involved in something where they could identify with one another. People tend to set up Facebook groups to defend themselves when the solution already exists within their central organization.
At the CSQ, there is much more that unites our members than divides them, and it's important that we showcase just that to them. We have to be able to bring people, our members, together, and to reach them in their day-to-day lives.
DO YOU THINK THAT THE CSQ IS VISIBLE ENOUGH WHEN COMPARED TO OTHER CENTRAL ORGANIZATIONS?
If being present in the media entails people talking about us because of our outbursts, the CSQ has undoubtedly kept a relatively lower profile than other central organizations. However, statistically speaking, our organization had the highest profile in the media throughout the pandemic. We were everywhere!
As CSQ President, I want to make sure that our organization is proactive, by bringing specific issues out into the open rather than just react to the decisions of the government or other groups.
The CSQ must continue to be an important actor of social change!
SOME SAY THERE IS A SENSE OF UNEASE ACROSS QUÉBEC'S LABOUR MOVEMENT RIGHT NOW. WOULD YOU SAY THAT THIS IS TRUE?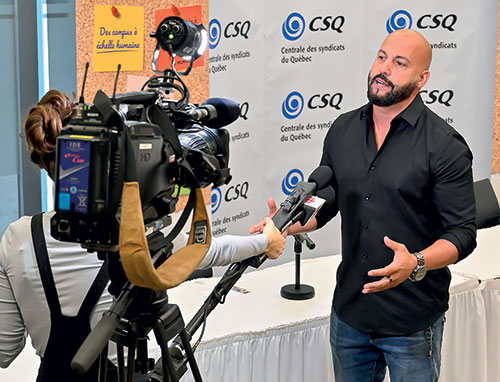 The last 20 years haven't always been easy, it's true. Our advocacy work has met with limited success. Which explains why, nowadays, when speaking about anything else than renewing our collective agreements, people wonder why they should rally around a cause, like the environment for instance.
The last round of negotiations took place during a challenging social situation, in the midst of a pandemic, and the result we achieved is still rather amazing! That, to me, is a very positive step and that's what members need. They want a positive narrative. And that means that we have to put our accomplishments forward without necessarily saying that all is right with the world every day!
We have to be honest and tell our members what is really going on even when it isn't what they would like to hear. It comes back to our needing to be transparent.
WHY WERE YOU HOPING TO BECOME PRESIDENT OF THE CSQ?
To take on all these challenges! I believe in an organization like the CSQ. I believe in the CSQ. I want to take on this leadership role wholeheartedly and get people involved!
I know that only a few presidents, as was my case, were not part of the CSQ Executive Committee before being elected. However, I believe that my 20-year experience within the labour movement will help bring in new ideas.
I still have things to learn about the organization but I can count on my wonderful colleagues in the Executive Committee and on our team of advisors across various services to help strike a balance between introducing new ways of doing things and keeping what's working well.
WHAT ARE YOUR PRIORITIES FOR THE NEXT THREE YEARS?
In healthcare and education, we've seen a lot of changes during the pandemic. They will definitely impact our workplaces as we move forward. To that effect, our demands will focus on improving and supporting these work environments, regardless of the employment category or the job. The next three years will be interesting!