Meet stationary engineer Luc Lalancette1 who works in this little known area at the Université du Québec en Abitibi-Témiscamingue.
Every day, he makes sure that everyone has a sound learning and working environment. He conducts a daily tour of the engine rooms to verify that the ventilation, air conditioning, and heating systems are all working properly.
"A hot water heating system can be challenging in my line of work. Just imagine: every office and classroom in the university has a valve and a motor. The cooperation of personnel and students is essential!" he says.
Because one simply cannot turn off the heating and ventilation system in this type of establishment, maintenance is conducted twice a year, in the spring and in the fall, when there is less activity on campus.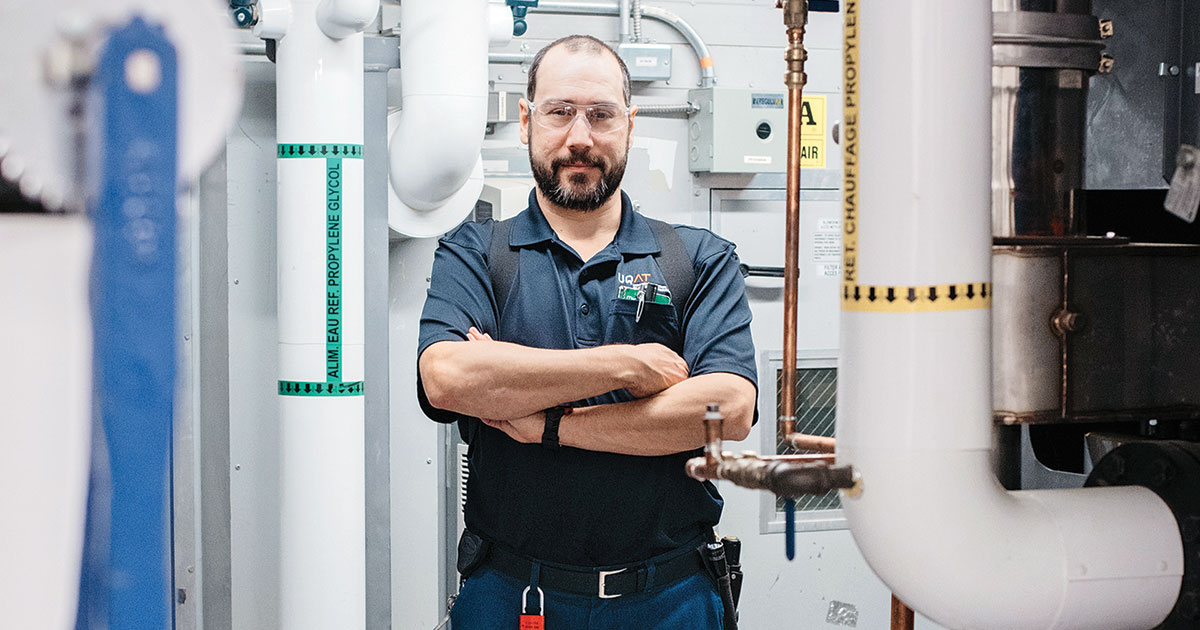 Neither seen nor heard
It's often said that support personnel in higher education work behind the scenes to perform essential duties. Luc Lalancette's job is a perfect example.
"Sometimes, the system stops unexpectedly. I remember one particular Saturday in winter, when it was -25 °C. There was no way the professors and students could return on Monday without any heating! After 15 hours of looking, I finally found and repaired the issues with the gas and fresh air intake that were at the root of the problem. On Monday morning, the classrooms were once again warm and comfortable," he says proudly.
A particular challenge
The university has campuses in Rouyn-Noranda, Val-d'Or, Amos, Notre-Dame-du-Nord, as well as in Lac Duparquet (Research and teaching forest).
"It's a large territory to cover. I need to travel to every location to perform maintenance and respond to emergencies. It's not always easy with the weather. At the beginning of November, I had to go to Amos for an emergency. It had snowed a lot and the van didn't have winter tires… But that's Abitibi!" he concludes philosophically.
---
1 Luc Lalancette is a member of the Syndicat du personnel de soutien de l'Université du Québec en Abitibi-Témiscamingue, affiliated with the FPSES-CSQ.